Return to Treasure Island
Three years after his triumphant return from Treasure Island, Jim Hawkins learns that Long John Silver has been captured and sentenced to hang. Jim's fateful decisions to help Silver propel them into a search for the greatest treasure of all – The Pharaoah's Gold.
Written in a cadence and style that is reminiscent of the original book by Robert Louis Stevenson, Return to Treasure Island hearkens back to the days when action, mystery and adventure rode hand-in-hand with storytelling and promises to entertain readers of all ages.
Jesse James Secret
Two mysterious trunks discovered over 25 years ago by direct descendants of the outlaw Jesse James launched a quest by historical archeologist Ron Pastore to find the truth regarding the outlaw's true motives and the facts surrounding his death. This first person narrative launches the reader into the journey with Pastore as he relentlessly follows up every lead, hope and clue.  As more is discovered, a historical conspiracy starts to unfold with intrigue and secret societies.  Startling new evidence first suggests and then proves that the enigmatic outlaw Jesse Woodson James was much more than a common criminal. Indeed, his actions were based on a much larger goal… the creation of a new nation.
And his death?  Could it have been a ruse to take the heat off of the much larger goal he and the secret society he belonged to had of remaining undiscovered? And what of the hundreds of millions of present day dollars worth of gold he stole? Tantalizing clues found in these trunks, coupled with years of research by Pastore, point to it still being buried, waiting to be discovered.
Jesse James' Secret, an explosive and gripping page turner, reveals all of this and more for the first time to the world.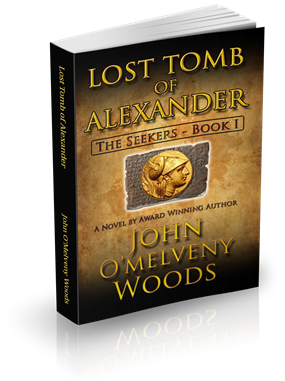 Lost Tomb of Alexander
A mysterious fragment of an ancient tablet surfaces and finds its way into the hands of archeologist Diandra Weiss.  Diandra recognizes it as the missing half to the Alexander tablet which promises to lead to the Monarchs' missing tomb.
The other half was presumed lost in WWII.
Happenstance and chance bring together a retired MI6 Cryptographer, a graduate student of ancient languages, who is also Diandra's not-so-ex former Special Forces husband.  In their search as The Seekers, they attempt to find the missing piece and ultimately to try and discover the tomb itself.
Along the way they face death from a sinister group within the Vatican known only as The Guardians.  Obstacles nearly doom their mission and a strange benefactor is as interested as they are in the tomb's discovery.
Their search leads them to discover that our ancestors left messages for us around the world that must be uncovered and deciphered before it is too late…
The future of our very existence may hinge upon these discoveries.
Lost Tomb of Alexander is the first in a series of action/adventure novels by award winning author John O'Melveny Woods that are engaged in the search to uncover the true history of humankind and understand how ancient artifacts and structures, referred to as Unexplained Archeology, fit into this hidden history.
The Crusaders
The 1960's were more than unique; they were without parallel.
From rock and roll to the space program, drugs to free love, the Vietnam War to civil rights, equality for women to the assassinations of beloved leaders, they forever changed an entire generation. The Crusaders is a collection of stories… that ignores most of that.
Instead, it's about a group of friends who grew up in a bedroom community near Los Angeles, California, during those tumultuous and seminal times.
From the innocence of pubescent naiveté to the experimenting of curious minds, these tales take the reader through the 60's from The Crusaders' youthful point of view with warmth, humor and good-natured fun.
The Crusaders both celebrates the 60's and exposes the unintended consequences that resulted as they slipped deeper into the uncharted waters of the times.
And how they paid dearly for their actions.
At its heart, The Crusaders is about the friendship, loyalty and love for each other that anchored and enabled them to get through those chaotic times to the other side of healing.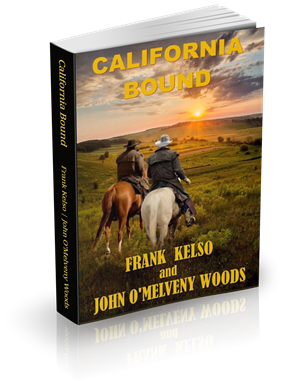 California Bound
Lawmen won't … The Cavalry can't … 2 Civil War veterans wade the Rio Bravo to find a stolen girl!
In a Union POW camp, Jeb & Zach dreamed of California Gold, but the road West leads Jeb to his sis's home in Texas.
Jeb & Zach are God-fearing, hard-working, honest southern boys–if you don't count stealing Gen. Sherman's horse.
A border war raged on the Rio Bravo near Eagle Pass TX! Cattle rustled! Ranches burnt! Innocents killed or kidnapped!
Confronting 2 Cortina men in a saloon turns ugly … Jeb is wounded … one Cortina man escapes to alert Cortina.
A young widow tends Jeb in healing after the Doc sews him. Jeb and Zach take a shine to the bold and sassy lady.
"Aww, man. After all the time we been together, are we gonna fight over a woman" … "No fight needed," Jeb said. "She's gonna decide, then get us think it was our idea." … "She always does," Zach replied.
Jeb & Zach trick Cortina to rescue Rebecca but Cortina cross the Rio Bravo to take Eagle Pass hostage!
Either Jeb & Zach surrender to him or he burns the town!
Will they ever get to California?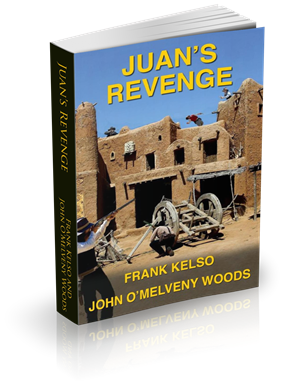 Juan's Revenge
Jeb wants a family. Zach wants to find gold. Juan wants revenge!
Jeb and Zach wanted a normal life after spending 3 years in a Union POW camp.
Miguel Cortiña kidnapped Jeb's 14-year-old niece, carrying her to Mexico.
Jeb & Zach, Civil War veterans, waded across the Rio Grande to bring her home.
They recover Becky while killing Miguel and his gang in a bloody battle to free her.
Problem is Miguel's brother, Juan Cortiña, is a General in Mexico—with a 2,500 man Army.
Jeb and Zach rescued Becky because it was the right thing to do—she was family.
But that's what Miguel's older brother Juan said, "It's an insult to my family! To my country! Those gringos cannot come into my country and kill my brother. I'll have my revenge!"
What chance do Jeb and Zach have against a 2,500 man Army?
Who will help them when the U.S. government wants Juarez to defeat the French in Mexico?
Once again, Jeb and Zach face impossible odds, and Jeb's out of dynamite!
Juan's Revenge is the 3rd dramatic story in the Jeb & Zach series of gritty westerns. If you like rich descriptions, multidimensional characters, and tales bringing history to life, then you'll love Frank & John's Rio Grande border war novel!